Nageswaran, Dr. V. Anantha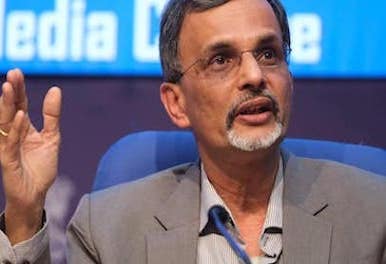 Nageswaran, Dr. V. Anantha
Chief Economic Advisor to the Government of India

Prior to this appointment, Dr. V. Anantha Nageswaran was a writer, author, teacher and consultant.
He has written a weekly Mint column for fifteen years on Tuesdays, since 2007.
He has co-authored four books:
The Rise of Finance – Causes, Consequences and Cures
Derivatives
Can India Grow?
The Economics of Derivatives
He has taught at several business schools and institutes of management in India and in Singapore. He was the Dean of the IFMR Graduate School of Business and a distinguished Visiting Professor of Economics at Krea University.

He was one of the founders of Aavishkaar Venture Capital Fund and the Takshashila Institution. He has served on the Academic Advisory Board of DAV Schools in Tamil Nadu and the Indian School of Public Policy.

He was a part-time member of the Economic Advisory Council to the Prime Minister of India from 2019 to 2021.

In his corporate career spanning seventeen years from 1994 to 2011, he was a Currency Economist at the Union Bank of Switzerland, Head of Research and Investment Consulting in Credit Suisse Private Banking in Asia, Head of Asia Research and Global Chief Investment Officer at Bank Julius Baer.

He was an independent Director on the Boards of TVS Supply Chain Solutions, Sundaram Fasteners, TVS Sri Chakra Tyres, Delphi TVS and Aparajitha Corporate Services.

In 1985, he received a Post-Graduate Diploma in Management from the Indian Institute of Management, Ahmedabad. He earned his doctoral degree from the University of Massachusetts in Amherst in 1994 for his work on exchange rate behaviour.