Gupta, Dr. Vibha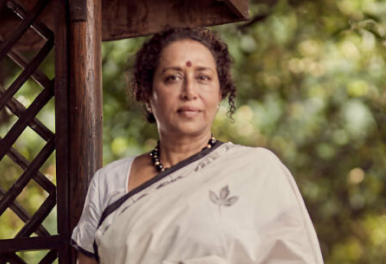 Dr Vibha Gupta,
Founder/Director Center of Sciences for Villages, Wardha

Dr. Vibha Gupta, the chairperson of Magan Sangrahalaya Samiiti (MSS) and the founder and Director of the Center of Science for Villages (CSV) in Wardha, Maharashtra, has dedicated her life to bringing Science and Technological innovations for enhancing rural entrepreneurship, rural employment, and ideal village conditions. Qualified as an economist with B.A. in Economics from Delhi University and master's in social work, Dr. Vibha Gupta took her postgraduate degrees in Social Science from Canada and Netherlands in 1980. She earned her Ph.D. in the subject, 'Transfer of Technology amongst Rural Women' from the Indian Institute of Technology, (IIT) New Delhi in 1993. Since then, for the past 30 years, she is working on developing and promoting appropriate technologies to generate rural employment. Dr. Vibha Gupta successfully mobilized 10,000 rural women and formed 1005 Self Help Groups (SHGs) in 125 villages. To empower the underprivileged rural women with productive skills, entrepreneurial ability, and leadership spirit, she trained 1400 SHG members in 40 national technical Institutes located in 20 states of India.

Dr. Gupta's vast impact impactful work in rural development include several areas. Some of her effort and accomplishments include areas of work in: Water Shed Development, Natural Farming – Sustainable Economic Venture; Rural Housing; Rashtriya Karigar Panchayat; Rural Health Insurance; Anemia Free Vidarbha - Nutrition Garden, and the First Organic Cotton to Organic Khadi Fabric Unit. The impact of all these areas is vast, for example the first organic Khadi production Unit - Magan Khadi set up provides livelihood to 300 Khadi artisan and organic farmers.
‍
Dr. Gupta's work has influenced several Govt. Policies and Programs. Some of her major accomplished initiatives include efforts in: Ownership Right of Indira Awas Yojana Houses for women; Restructuring Rural Sanitation Program from Community Toilets to Individual Toilets; Introducing 'Young Scientists Scheme' in the programs of the Department of Science & Technology; Establishing the Women Technology Centers in the Arid and Desert Zones of Gujarat and Rajasthan; and Formation of Policy Document for the Beijing World Women Conference.

A profound speaker in hundreds of conferences both national and international, Dr. Gupta has written more than 100 publications, including articles and books. She was the first one to publish a Compendium on Technology for Rural Women. In addition to being a member of several prestigious institutions and forums, she has been on the planning commissions of Govt of India, along with being special advisor to the Govt of India for Rural Technology Action Group of the Ministry of Science and Technology. Currently, she is serving on the Planning Commission of the State of Chhattisgarh, leading their rural technology innovation and entrepreneurship efforts.