Moni, Professor Madaswamy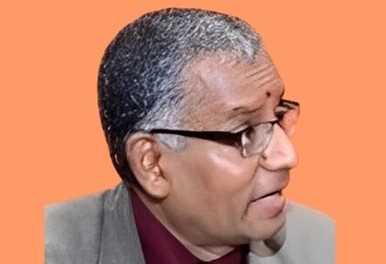 Professor Madaswamy Moni
Professor Emeritus and Chairman,
Centre for Agricultural Informatics and e-Governance Research Studies (CAIRS)
Shobhit Institute of Engineering and Technology (Deemed to be University) Meerut &
Former Director General, National Informatics Centre, Government of India, New Delhi

Professor Madaswamy Moni is the Director General (Retd), National Informatics Centre, a premier Institution of Government of India in the areas of e-Governance and Informatics development.
‍
Professor Moni is a Distinguished Technocrat and Eminent Informatics Scientist in the area of "e-Governance, Informatics and Agricultural Informatics" in India and has been a PIONEER. "Played a significant role in taking e-Governance in India and strived hard, thought strategically for long-term solutions, fought ground realities and challenges faced the country, yet devised ways to succeed" … This is how the Good Governance Magazine (September Issue 2011) described and identified him as "e-People" of September 2011. During his tenure as Deputy Director General in NIC, he was sent on Official Mission by the Ministry of External Affairs to Lao PDR and Timor Leste, to prepare and submit Project Proposal on e-Governance Programme. He has visited many African, European and Asian Countries, including USA and Canada, on various Technical Missions.

Prof. Moni was the Invited Speaker to the 2013 ICT Observatory: Strengthening e-Agriculture strategies in ACP Countries, organised by Technical Centre for Agricultural and Rural Cooperation ACP–EU (CTA), Wageningen (The Netherlands), 23-26 April 2013 and presented a talk on "Strategic Integration of ICT in Agriculture : Experiences of National informatics Centre (NIC) India".

Professor Moni has more than 40 years of experience in the field of e-Governance and Informatics, having held prestigious assignments, including sharing important responsibilities as Principal Systems Analyst to the Former Finance Minister of India, Hon'ble Shri V. P. Singh, during 1985-88.

Professor M. Moni was the Chairman of the Task Force on IT in Agriculture of the Government of Jharkhand 2007-08; and the Chairman of Sub-Group on "IT and ICT usage in Agricultural data, at Agro-Climatic level, and also in Small Area farm business" of National Statistical Commission, Government of India, 2011. His Publications have generated academic and research interests in the areas of regional development, agricultural development and informatics development. He was instrumental for ICT for District Administration (DISNIC Programme: e-Government) in +512 Districts during 1987-91 and ICT for Agriculture (ICT4Ag) from 1995-2013 in India. These ICT Projects have been internationally recognized. His article titled "Capacity Building and E-Governance in Agriculture and Rural Development: An Informatics Blueprint for Developing Countries' in African-Asian Journal of Rural Development, Volume 48, No. 2, 2015, pp. 7-63, has been well received.

Founder Project Director of District Information System Programme of NIC (DISNIC) 1987 in 28 development sectors (Agriculture, Livestock, Fisheries, Irrigation, Health, Education, Industries, SC development, ST development, Micro-level planning etc.), and operationalized, during 1980s, in about 520+ districts in India. The DISNIC Programme 1987 has been the "front-runner" of the present day "e-Governance Programme" of India. Instrumental for conceptualizing Digital Networks for Farmers (DNF) – An Informatics Blueprint for Improving Agricultural Productivity and Sustainable Rural Livelihoods, through the National Conference on "Informatics for Sustainable Agricultural Development, May 1995" (ISDA-95) and operationalizing many national ICT projects viz., AgRIS, AGRISNET, AGMARKNET, SEEDNET, HORTNET, APHNET, FISHNET, NADRS (National Animal Disease Monitoring System) Project etc in the Agricultural Sector in India. He was instrumental in visualizing, designing and operationalizing "IntraNIC" for National Informatics Centre (Government of India) using SharePoint Portal Software Tool in 2002. This was the frontrunner for Internets Development for various Ministries later, and then Portal Development using Open Source Technologies Software later.

Instrumental in visualizing the development Schemes under the Eleventh Plan (2007-12) of National Informatics Centre (NIC): GRID (Grass Root Informatics Development) Project, SMART VILLAGE Project and SMART ISLAND Project. Instrumental in conceptualizing NADRS (National Animal Disease Reporting System) Project for implementation in about 7032 locations for strengthening the Animal disease surveillance and monitoring system in the country. Conceptualized the need for establishing a "National Centre for Farm Health Management Research Studies" to understand an integrated view of Plant health, Animal Health, Soil Health and water Quality for agricultural productivity increase.

Prof. M. Moni is the Former Secretary General, Bhoovigyan Vikas Foundation, New Delhi, founded in 2000 CE for Earth Sciences Development, Sustainable Development and Earth Care Policy Studies, in developing Countries. A Distinguished Fellow and the Co-Chairman of Bhoovigyan Vikas Foundation (BVF), New Delhi. As the Secretary General, Prof. M. Moni was instrumental in organizing the following Conferences: -
Earth Day Celebrations and 1st International Conference on Sustainable Development and Sustainable Life Styles, 21-23 April 2001, New Delhi
2nd International Conference on Sustainable Agriculture, Water Resources Development & Earth Care Policies, 18-20, December 2002, New Delhi
3rd International Conference on Rural India: Achieving Millennium Development Tools and Grassroots Development, 10-12, November 2005 [M. Moni (2005): Rural India: Different Meaning to Different People – A Discussion Paper]
In the National Symposium on "Paradigm Shift in Geography", Organized by A. M. Khwaja Chair, Jamia Milia Islamia, New Delhi, 28-29, November 2011, his Keynote Address "Paradigm Shift in Geography: Challenges and Opportunities" was well received, instrumental for creating a debate on establishing a "National University of Geography" in India to build up enough "Capacity Building for Sustainable Development", and published in the Proceedings (pp 1-40). He was also the Member Secretary of the Task Force on "Agricultural Resources Information System (AgRIS) –2000" under the National Natural Resources Management System (Department of Space, Government of India).

Professor Moni is the Recipient of Seva Ratna Award 2004 (The Centenarian Trust, Chennai) and Bhoogol Bhushan Award 2006 (The Deccan Geographical Society India, Pune) for ICT for Agricultural Development (ICT4Ag) in India, and also nominated to the Technology Museum Award, USA 2004 and 2005 for visualizing and operationalizing the AGMARKNET Project in India. Indian Council of Food and Agriculture (ICFA) decorated Prof. Moni with its prestigious "Global CEO Award 2018" on 25th October, 2018, "ICT Leadership Award" during Agriculture Leadership Conclave 2019 held in July 2019 at New Delhi, and "Life Time Achievement Award 2020" by Global Outreach Research & Education Association (GOREA) in 5th Global Outreach Conference on Modern Approaches for SMART Agriculture (MASA-2020, "Outstanding Contribution to Community" Certificate, presented by Indian education Network at 9th Annual Higher Education Summit, held on 25th February 2021 at Le Meridian Hotel, New Delhi; Bharat Ratna Atal Bihari Vajpayee Tribute to Titans of Technology: Furthering the Indic Atmanirbharta - Conferred for lifelong contribution to the Indian Information Technology while being in National Informatics Centre & Thereafter, National Technology Day 2021, 11th Day of May 2021 by Re:think India, New Delhi; Guru Golwalkar Tribute to the GURUS of Atmanirbhar Bharat - Professor Moni Madaswamy on Guru Purnima Day, July 24th, 2021, by Re: think India, New Delhi; Life Time Achievements Award 2021 for ",Outstanding Contribution in the field of Agri-Informatics" by Agricultural Technology Development Society (ATDS) Ghaziabad (Uttar Pradesh), in the International Conference on Advances in Smart Agriculture and Biodiversity Conservation for Sustainable Development (SABCD-2022), March 4-6, 2022 held at Jaipur National University, Jaipur; Chaudhary Ajit Singh Krishi Ratna Samman 2022 for nurturing Equitable Agro-Food Systems of Bharat Conferred upon Prof. Madaswamy Moni for being India's Most Authoritative Voices pertaining to Agri-Informatics and Allied Areas, on 6th May 2022 by Re:think India, New Delhi; Lifetime Achievement Award, presented by Prof. Anil Sahasrabudhe, Chairman, All India Council for Technical Education (AICTE), during INDIA STEM SUMMIT & AWARDS' 22 (4th Edition) held on June 22-23 at Dr. Ambedkar International Centre, New Delhi, organised by Ministry of Education, Ministry of Skill Development & Entrepreneurship and All India Council for Robotics and Automation (AICRA) New Delhi.

Professor Moni is the Chairman of ICFA's Working Group on ICT (www.icfa.org.in); Member, Indigram Labs Foundation Advisory Board, Delhi (www.indigramlabs.org); Hon. Chairman, AHIMSA Chennai (an NGO involved Agricultural and Rural Developmental Activities in Tamil Nadu) – www.ahimsact.com.; Advisor to ICCo India (www.iccoindia.org), New Delhi. He was, earlier, the one of its Vice-President and Board Member of the Asian Federation of Information Technology in Agriculture (AFITA), Tokyo.

After retirement from the Government Service, Professor Moni has been the Professor Emeritus and Chairman, Centre for Agricultural Informatics and e-Governance Research Studies (CAIRS) 2013; and instrumental for establishing Centre for AgriBusiness and Disaster Management Studies (CADMS) 2017, Centre for Industry 4.0 Technology Studies and Applications (CITSA) 2018 and Centre for Informatics development Studies and Applications(CIDSA) in 2019 and Centre for Health Informatics and Computing in 2021, in Shobhit Deemed University Meerut (NCR Delhi, Uttar Pradesh). The University provides Agricultural Informatics Programme at M.Tech/B.Tech level, MBA in Agri Business Management, and also Diploma on e-Governance in Farming Sector. CAIRS is the first centre in India.

In December 2018, Prof. M. Moni has been invited to be the Chairman of the "Working Group of BRICS Biomedical Informatics, India'', by Professor Shamil Akhmedov, Chairman of BRICS-Biomed Consortium and Deputy Director for Innovation Research Institute of Cardiology of Tomsk National Research Medical Center (Russian Academy of Science). He has accepted the Invitation.

Prof. M. Moni was formerly Chief Advisor (IT), Department of Agriculture, Cooperation & Farmers Welfare, Government of India, New Delhi, and has been associated as the Group Leader of two sub-Groups on Volume-11: Empowering the Farmers through Extension and Knowledge Dissemination, and Volume 12: Digital Technology in Agriculture (Chapters 7-10), for formulating Draft for the "Report on Doubling Farmers Income by 2022" (DFI-2022) of the Ministry of Agriculture and Farmers Welfare. Instrumental for visualizing following strategic recommendations as DFI-2022 Mission Mode Programmes: -
Digitalised Agriculture: Digital Technology and Innovation in Agriculture: Digital India, Make in India, Skill India and StartUp India Programmes for Transformational Reforms in Agricultural Sector (SMART Irrigated, SMART Rainfed and SMART Tribal Agri Systems)
Digitalised Agro-Met Advisories & Agricultural Risk Management Solution;
Digitalized Agricultural Resources Information System and Micro-Level Planning for achieving SMART VILLAGE & SMART FARMING;
Digitalized Agricultural Value Chain from "Farms" to "Profits" – nearly about 400 Commodities;
Digitalised Access to Inputs, Technology, Knowledge, Skill, Agricultural Finance, Credit, Marketing and Agribusiness Management, to Farmers;
Digitalized Integrated Land and Water Management System – Per Drop More Crop;
Digitalized Farm Health Management for reduction of Farmers' Losses.
Prof. M. Moni was Advisor (IT) in Delhi Development Authority (DDA), Ministry of Housing and Urban Affairs, Government of India during the period of January 2017 to March 2020. He was earlier the Principal Advisor to eHealthSystem Technologies LLP, Pune (Maharashtra), which is promoting One Health - Eco Health System components.

His Articles titled: (i) "e-Governance in Farming Sector: A Roadmap to enhance Agricultural and Food Security", Section – III, Chapter 13 in the Book titled "Modi's Odyssey: Digital India, Developed India" - Sameer Kochhar (Eds), December 2015, Publication of SKOCH Group, Gurgaon, NCR Delhi, received vast readership.

Prof. M. Moni moderates two Weekly Webinar Series of Shobhit Deemed University Meerut - National Webinar Series on Doubling Farmers' Income by 2022 (Atmanirbhar Bharat in Agriculture) on Thursdays (93 Editions by 15th September 2022), and International Webinar Series on Open Source Digital Technologies towards Self-Reliant India (Atmanirbhar Bharat) on Saturdays (91 Editions by 15 September 2022).

Prof. M. Moni is a Technocrat, Academician, Researcher, Author, Project Developer, Project Implementer, Organization builder, Optimist and above all, a Man of Missionary Zeal.