Sri Sri Ravi Shankar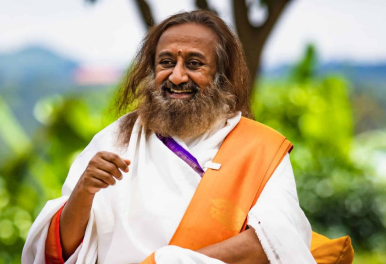 Sri Sri Ravi Shankar, Spiritual Leader & Founder
Art of Living Foundation

Sri Sri founded The Art of Living as an international, non-profit, educational and humanitarian organization. Its educational and self-development programs offer powerful tools to eliminate stress and foster a sense of well-being. Appealing not only to a specific population, these practices have proven effective globally and at all levels of society. The Art of Living courses are currently offered in over 150 countries. In 1997, he also founded the International Association for Human Values (IAHV) to coordinate sustainable development projects, nurture human values and coordinate conflict resolution in association with The Art of Living. In India, Africa and South America, the two sister organizations' volunteers are spearheading sustainable growth in rural communities, and have already reached out to 40,212 villages.
‍
Sri Sri has pioneered and supported movements to revive ethics in public life such as India Against Corruption and the World Forum for Ethics in Business. In India, Gurudev has started 702 schools offering free education to the underprivileged in the remotest of areas benefitting over 70,000 children currently equipping them to become productive citizens. Care for the environment has been one of the greatest areas of activity for the organization spearheaded by Gurudev. 47 rivers and thousands of water bodies in India are currently being revived; the Art of Living volunteers have planted 81 million trees in 36 countries and 26 Indian states.

A noted humanitarian leader, Sri Sri's programs have provided assistance to people from a wide range of backgrounds – victims of natural disasters, survivors of terror attacks and war, children from marginalized populations, and communities in conflict, among others. Sri Sri has touched the lives of millions around the world, going beyond the barriers of race, nationality and religion with the message of a one-world family free from stress and violence that can be created through the reawakening of human values and service.