Siddhanti, Dr. Smita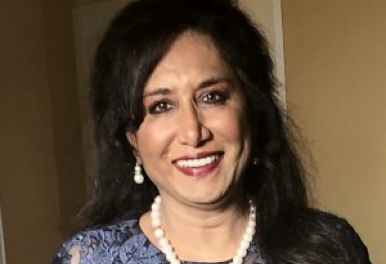 Dr Smita Siddhanti,
Founder & President, EnDyna Inc.

Dr. Smita Siddhanti is the founder and President of EnDyna Inc. (www.endyna.com), specializing in management and environmental consulting for various federal agencies in Washington DC. She was the past president of DC Chapter of TiE – The Indus Entrepreneurs, and currently serves on the Global Board of Trustees for TiE.  She has served on the Virginia Governor's Air Quality Board and on the Board of University of Pittsburgh. Dr. Siddhanti is a recipient of several awards including 2014 Future 50 award of Smart CEO, and the White House Green Government award in 2016.  

Smita is committed to enhancing entrepreneurship as the basic engine for economic development and has been actively involved in this pursuit with the global organization such as the Ashoka Foundation for changemakers, American India Foundation, Indiapora, and with TiE chapters around the world. She is on the Advisory Board of Magan Sangrahalaya Samiti (MSS), an Indian NGO in Wardha, Maharashtra, working for rural enterprise development in villages. As the TiE Global Board of Trustees, Smita is leading the TiE Women Initiative to assist and mentor women entrepreneurs across the globe in 30 countries. In addition, she has built a strong relation with TiE and the Indian Embassy to start various technology incubation and entrepreneurial initiatives. Smita is also leading the TiE Global Special Interest Group of social entrepreneurship and social impact investing.

With her extensive experience and engagement, Dr. Siddhanti is contributing to WHEELS Global Foundation's two major missions - Livelihood and Sustainability – facilitating development of sustainable enterprises to enhance rural economy. Well known speaker in numerous national and international conferences and forums, she recently was a panelist at the US-India Leaders' Summit at the National Press Club in DC, and at the Philanthropy Summit at the George Town University. In addition to her several publications, Dr. Siddhanti is an author of the book Multiple Perspectives on Risk and Regulation: The Case of Deliberate Release of Genetically Engineered Organisms into the Environment, published in 1991.  She holds a B.S. and M.S.in Biology from Delhi University, M.S. in Technology Policy from Rensselaer Polytechnic (RPI), and a Ph.D. in Technology and Public Policy from the University of Pittsburgh.